Marketing Canvas
No matter how spectacular your business is, it will struggle without the right marketing strategy in place. To create the right strategy, though, and keep the future looking bright and prosperous, you'll need a little help.
That's what the marketing canvas is for.
About the Marketing Canvas
This tool is a riff off of a famous business model canvas by Strategyzer or, more specifically, Alex Osterwalder. The original was designed to visualize and structure business models, as well as to provide a clear framework for discussing with peers and executing it.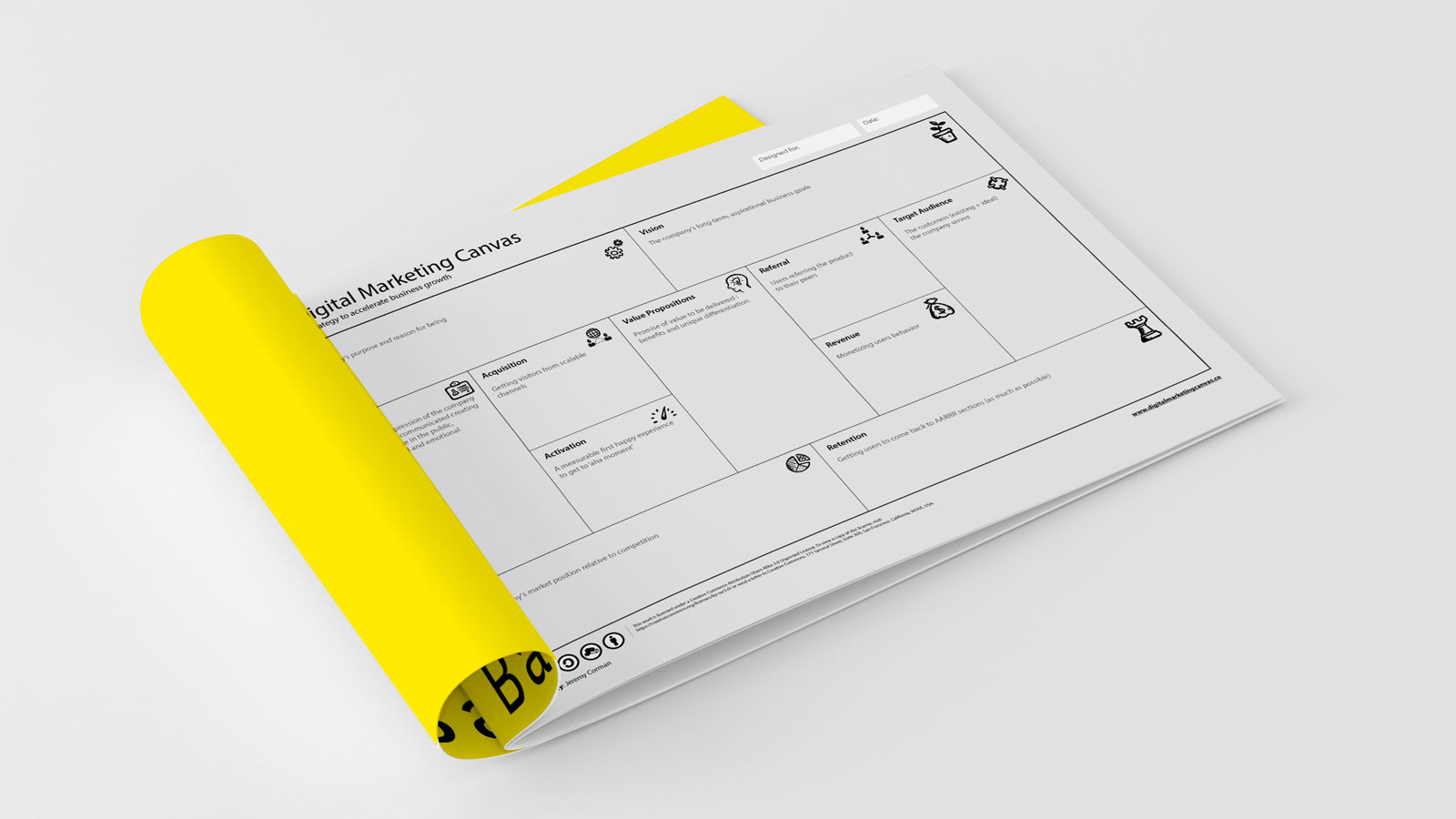 Jeremy Corman then took this concept and adapted it to develop strategies that would accelerate business growth. To help you execute on these strategies, this version of the canvas clearly explains marketing fundamentals, including important info about the buyer's journey. These explanations are helpful if you have little to no marketing training and make the strategizing process more inclusive and engaging.
Would you like to take a more structured approach to articulating your value proposition through marketing tactics and digital technologies? If so, then we strongly recommend that you go through both the business model canvas and marketing canvas exercises. They will help you to challenge and clarify your business ideas and decisions.
Download the Marketing Canvas
Want the marketing canvas? Awesome! Head on over to https://www.digitalmarketingcanvas.co/ and click "Download" at the bottom of the page to get your copy today.
How to Use the Marketing Canvas
Our recommendation is that you print it out and gather your team and stakeholders around a table to iron things out the good old-fashioned way. Have an open discussion, argue your points, listen to those of others and once, you reach an agreement, fill in the canvas.
Extra Tip: If you're one of those people with a tiny green pine tree in your email signature, then we suggest you use an awesome real-time collab tool called Miro (formerly RealtimeBoard). It's as close to a perfect team building experience as you're gonna get.
Ultimately, each section of the canvas will probably branch off into its own document and the canvas will lose its appeal. But that's not a bad thing; it means the canvas has done its job and you're now taking more control over your marketing strategy. We guarantee that this will pay off in the long run so happy strategizing!